High thermal conductivity
High thermal conductivity up to 900 W/mK
High thermal conductivity is also unique performance of high modulus carbon fiber. Carbon fiber with 900W/mk is also produced industrially. And this property has been utilized for thermal solution in electronics and satellite application.
Thermal conductivity of GRANOC and other materials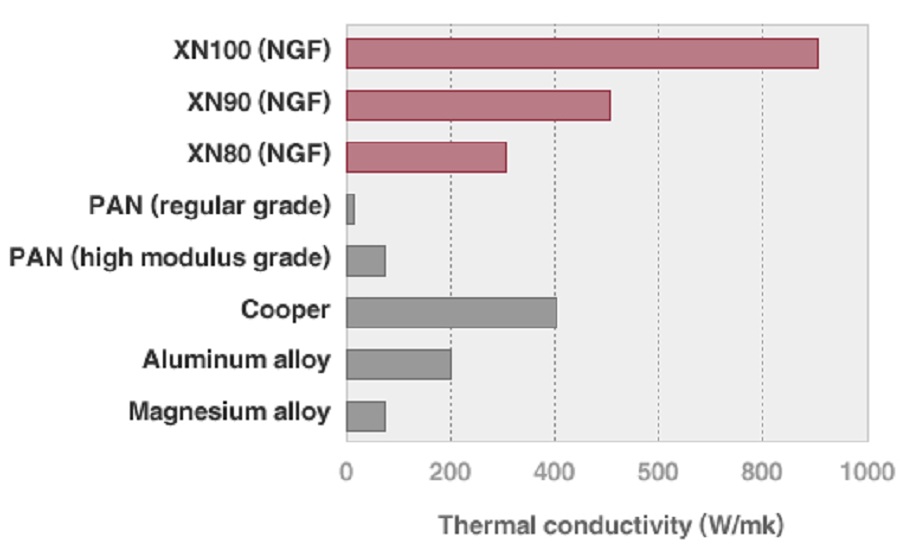 High thermal conductive fiber lineup
GRANOC high thermal conductive grade is available as Yarn, Fabric, Chopped and Milled fiber.
GRANOC high thermal conductive grade
Grade
Thermal conductivity
W/mK
Form
GRANOC
Yarn
GRANOC
Fabric / Prepreg
GRANOC
Chopped
GRANOC
Milled Fiber
XN-100
900
○
○
HC-600
600
○
YS-90A
500
○
○
○
YS-80A
320
○
○
○
YSH-70A
250
○
○
○
XN-90
500
○
○
○
XN-80
320
○
○
○
XN-60
180
○
○
○
Electrical conductivity
Electrical conductive
| | | |
| --- | --- | --- |
| Pitch based carbon fiber can be used as filler to increase electrical conductivity of plastic. | | 図1 電磁波遮へい特性 |
Typical grade
Typical grade

Grade

Electrical resistivity

10-4 ohm cm

XN-100
1.5
HC-600
2
YS-90A
3
YS-80A
5
YSH-70A
5
XN-90
3
XN-80
5
XN-60
7